About the Publisher- WingsePress
If you like short stories find the tab on this site and enjoy a couple of them.

There are free short stories on http://wingsepress.com Wings epress has a wide variety of fiction. Their authors range across the span of reader's tastes. If Romance is you genre, there are fine romance writers. Science Fiction? Adventure? Whatever story a writer has to offer, you can be sure of one thing...they want someone to read it! That's where you come in. Yes, You. The all-important reader. Take time to check out a few of the Wings authors. There may be a book just right for you.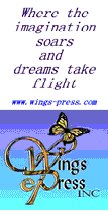 Click on the link it will take you to the wings site. http://wingsepress.com Link
Discover a whole new on-line bookstore. The authors there will thank you. Don't forget to try one of the books by H. L. Chandler. You never know where this writer's imagination will lead. Good reading to you.