Before the Roses Wither
This novel, published by WingsePr
ess
should be
NOW AVAILABLE ON AMAZON AND WINGSEPRESS WEBSITE.
If you enjoy futuristic novels set in the United States, read this one.  Our imaginations can take us far into the future. Will any of our hopes, dream, or fears come true?  We can't know, but we can speculate. We can time travel in our minds, sometimes for fun, and sometimes in dread of what is coming. In another novel, Sure and Certain Shadows written in 2017 - (also published by Wings)  The main character, Ingrid, is thrown into an alien world, a world that has progressed to a stage of complete governmental control over its citizens.  When she manages to survive, and find a way home, there are alarming events that suggest a future for her planet that may be the same as the one she left. The point being that Future events most often cast their shadows before them.  An interesting idea.  Study current events, see if they give any hint of the future. 
  Before the Roses Wither is such a story.
Diana, a socialite, Clayton, a farmer, Evan the evangelist, and Jan an organizer. Four entangled lives with different goals. Will disaster destroy or unite them?  The characters in this story are deeply involved with their personal wants and desires, each trying to achieve what they believe to be the right path for them.  Yet, not being aware of the disaster bearing down upon them. A future where their plans and dreams will drastically change.  
   When Diana marries Clay, it is the event of the year in Garden City. She is marrying a prosperous landowner. She considered Evan, but the only advantage the fervent evangelist had was his golden handsomeness. No, she made the right choice; Clay will continue the rich lifestyle to which she is accustomed. Clay knows the elegant Diana is not the ideal farm wife, but he wants her anyway. When drought and man-made disasters destroy the farmland, reality sets in and Diana decides to save herself. Leaving Clay to fight against the church and state to keep control of his land.
    While the heartland is dying, Evan struggles with his spirituality. He becomes a problem for the church, and Clay offers him asylum complicating his own situation. The two men are in the midst of battles, Clay in the visible world, and Evan against unseen principalities. Diana's sister, Jan, believes in Evan's crusade. She wants to build up his following, organize the campaign, yet not understanding Evan's true goal.
     As they each work toward what they perceive as right, circumstances, and world events may in the end determine their fate.
=============================================================================================================
Come imagine the future. What would you do in these characters situation?  The novel is available in ebook or paperback. Both can be found on Amazon or the Wings website. If you read this story, I invite you to leave a review on the Amazon site.  A risky invitation, but what readers think should be important to authors. I hope to see some of your comments.
If you like short stories find the tab on this site and enjoy a couple of them.

Wings epress has a wide variety of fiction.  If Romance is you genre, there are fine romance writers.  Science Fiction?  Adventure?  Whatever story a writer has to offer, you can be sure of one thing--they want someone to read it!  That's where you come in.  Yes, You.  The all-important reader.  Take time to check out a few of the Wings authors.  There may be a book just right for you.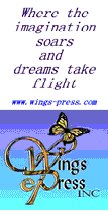 Click on the link it will take you to the wings site.  Link
Discover a great on-line bookstore.  The authors there will thank you.  Don't forget to try one of the books by H. L. Chandler.  You never know where this writer's imagination will lead.  Good reading to you.